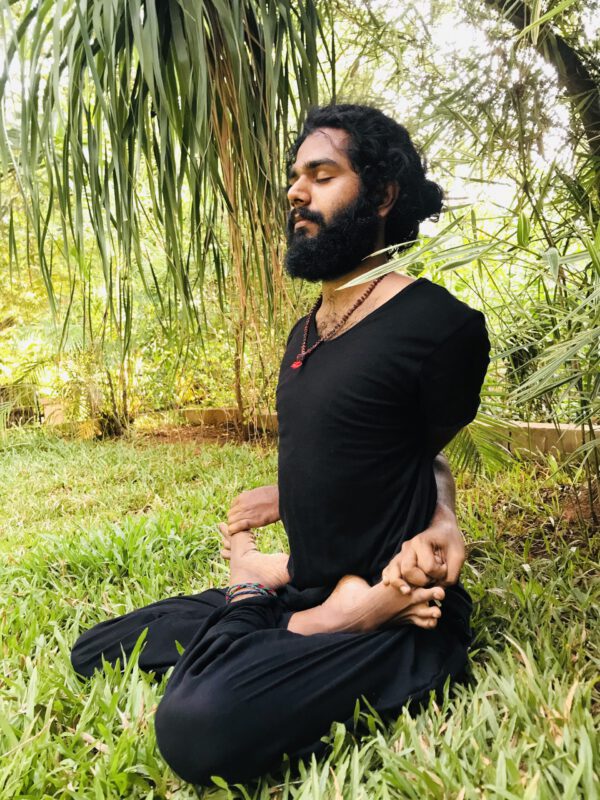 Online Yoga Intensive – English
Practice yoga and meditation for two weeks in a row, once or twice daily, learn about vegan nutrition, diet and yoga philosophy in this online course. We'll go through the Asana of Ashtanga Vinyasa Primary Series, analyzing the sequence, the breathing and all the postures. We will focus on the three main pillars of this practice: Dristi, Bandha and Ujjayi breathing. We'll prepare the practice for the Mysore Style in which the practitioner can practice the sequence by herself/himself and get personal adjustment from the teacher.
We will host a Nutrition workshop in which the relation between practice, lifestyle and food will be studied and understood deeply. We'll also have the chance to discuss the topics Yoga Philosophy and Meditation.
Our aim is to give a complete introduction to a yogic lifestyle that can improve the quality of your daily life.
Daily Schedule
Monday 10th of January – Sunday 23th of January 2022:
Monday to Friday  2:00-3:30 pm & 6:30-8:00 pm
Saturday & Sunday  2:00-3:30 pm
Note: The afternoon and evening workshops during the week will be the same ones, they are doubled to make it more flexibel for you with the timing.
Price 135,00€ for
– online workshops
– study material
– Ashtanga Practice Chart
– vegan recipes ebook
– recordings of the sessions
The facilitators
Jeo Varghese (India/Italy)
500 hours YTTC (Alliance International) Santhi yoga international, Kerala. Prana Vashya yoga shala certified, Mysore / Ashtanga Sadhana, Mysore/ Ashtanga Yogatantra Research School, Mysore / thai traditional massage therapist / Pranic healing advanced level (Kerala pranic healers association)
Nidhish Nidhiri (India)
M.Sc Yoga (S.Vyasa University), TTC Yoga (Shivananda), YIC (S.Vyasa Yoga University), professional Yoga Teacher of the Ministry AYUSH Government Department of India certified by the Quality Council of India. Founder of Panchakosha Upasana course in Rishikesh.
Nita Belliappa (USA)
She is an holistic nutrition and lifestyle coach. She offers simple and sustainable life style changes through food, to reach an health and disease free life. Empowering your knowledge and tools – through a whole food plant based and natural lifestyle – will help to achieve your healthy self.
Alice Avaldi (Italy)
Yoga Alliance 500 h YTTC (Santhi Yoga International – Kerala, India), Mysore Prana Vashya with Vinay Kumar, Ashtanga Vinyasa (Mysore style) with Vijay Kumar and Kushal Ram. Pranayama and Back Bending with Vinay Kumar. Yin Yoga with Lindsay Nova. Reiki level 1.
Fehler: Kontaktformular wurde nicht gefunden.